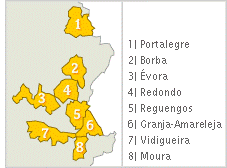 Located in the south of Portugal, Alentejo is a sunny region, allowing the perfect ripening of the grapes. As temperatures are very high in the summer, the vine has to be irrigated.
The region is mainly made up of plains, though Portalegre suffers the influence of the São Mamede mountain range. The vines are planted on the steep slopes of the mountain or in very heterogeneous soils of clay, granite, limestone or schist. However, these are not very fertile.
Most of the region's 22000 hectares of vine are centred on the eight sub-regions of the Denomination of Origin of Alentejo: Reguengos, Borba, Redondo, Vidigueira, Évora, Granja-Amareleja, Portalegre and Moura.